Everyone at Fantastic Comics is SO EXCITED for our signing this Saturday with Irene Koh! Check out our FAQ for the event and we'll see you on Saturday!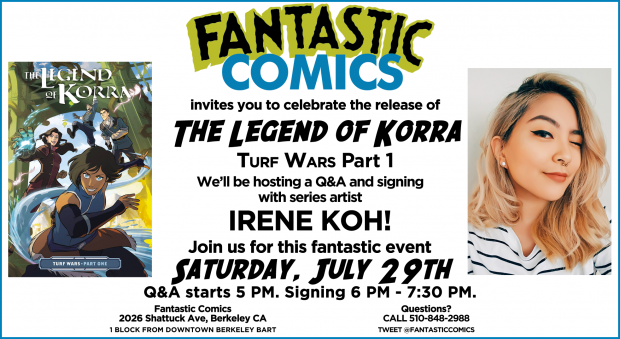 When does the event start?
We'll get started with a Q&A at 5PM. It'll go for no more than an hour, then we'll switch over to signing.
When does the event end?
The signing portion of the event is planned to end at 7:30.
How early should I arrive for the Q&A?
We will probably be setting up seating for the Q&A one half hour before it begins. Seating is limited and first come first serve. We will also have loads of standing room.
What if I can't stand or need accommodations? Are you wheelchair accessible?
We are wheelchair accessible and are happy to make whatever accommodations we can manage. Please contact us at Fantastic Comics before the signing if you have concerns about attending.
Can I buy THE LEGEND OF KORRA: TURF WARS at the signing?
Unfortunately due to some shipping problems outside the store's control we are a little low on copies of the book. Because we have a limited supply we will start selling copies on Saturday after the Q&A only. Copies will be limited to one per customer and will be first come, first serve with no advance reservations. We're sorry for the inconvenience, but this seems like the most fair way to proceed.
Can I bring copies of THE LEGEND OF KORRA if I purchased them somewhere else?
You are very welcome to bring items you've purchased elsewhere.
How many items can I bring to get signed?
Feel free to bring as many as you like. We do ask that if you bring more than five items you circle back in line to make sure everyone has a chance to get their items signed.
Will Irene have prints for sale?
Yes! We've invited Irene to bring whatever prints and merchandise she wants to sell. All print sales will go directly through her.
Can we bring children to this event?
Children are absolutely welcome to our event!
Where can I get updates?
You can RSVP to our facebook event to stay informed of any news or changes to the event!
What if I have a question you haven't answered here?
Contact us via email at contact@fantasticcomics.net or call us at 510-848-2988 with any other questions.
We hope to see you there!