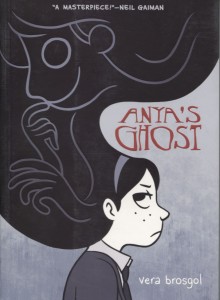 "A masterpiece!" – Neil Gaiman
For many of us this kind of stellar response from Neil Gaiman is all we need to pick up a new book. But for everyone else, this is an independent gem not to be missed.
Anya's Ghost is the debut solo book of Portland author and artist Vera Brosgol. It follows her protagonist Anya Borzakovskaya who has no greater problems than navigating high school as an awkward teenage girl… until she falls down an abandoned well. At the bottom of the well she meets Emily, a young girl who has been a ghost for the last ninety years. Emily convinces a reluctant Anya to take her to school where she proves her usefulness in both the academic and social realms. But as Emily gets stronger and her personality comes out, Anya begins to wonder if her ghost friend is as altruistic as she seems.
One of Brosgol's strengths is clearly creating fully realized, multidimensional characters. Anya is a completely believable and recognizable character. She worries about her weight, looking cool at school, boys, and how to relate to her heritage as a member of a Russian immigrant family. Although she initially appears as an insecure character who has to be coerced by Emily to put herself forward, she gains a self confidence by the end of the book that is all her own. And although they have less face time, the peripheral characters (Anya's mother and younger brother, her best friend, the bullied classmate who is also from a Russian family, the boy Anya has a crush on and the girl he is dating) are also multifaceted and have their own conflict.
The tone of the book begins as a straightforward teen angst story and evolves into a supernatural friendship comedy, but transitions to something much more sinister with a plot twist half way through. Brosgol navigates the different tones of the story well and her art (which is somewhat reminiscent of Marjane Satrapi's Persepolis) remains consistently expressive and engaging. I would highly recommend this book to adult readers as well as young adults.