April is coming to a close, which means it's time to invite you to join us for our yearly FREE COMIC BOOK DAY!
One of our favorite days of the year is almost here and we hope you'll come out to help us make it a fun one!
Come by the store to take advantage of all-day STORE-WIDE SALES, pick up original sketches from fantastic LOCAL ARTISTS, show up in your favorite COSPLAY, get your picture taken with members of the 501st LEGION, and pick up a bag of specially produced FREE COMICS!
Free comics are first come first serve and our doors open at 10AM, so come early.
For updates, RSVP to our facebook event.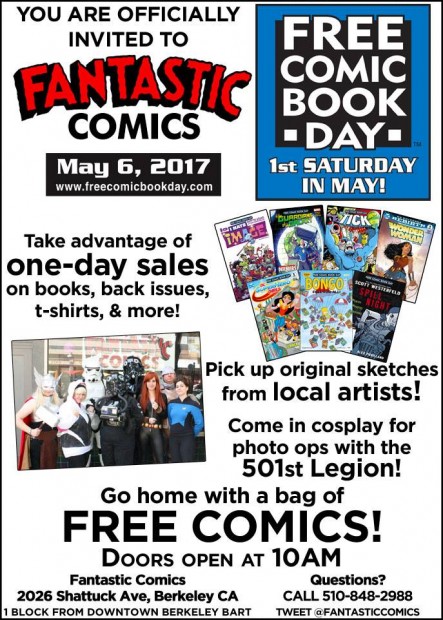 FCBD FAQ:
How early do you open?
We open our doors at 10AM, although folks start lining up much earlier than that to be ahead of the line.
What if I have trouble waiting in line?
We understand that not everyone can stand in a long line. Please talk to a Fantastic Comics staff member or volunteer and we will make whatever accommodations we can for you. If you're concerned, contact us ahead of time and we'll see what we can do.

Which comics are free?
Every year publishers produce specific comics for stores to buy and give away on Free Comic Book Day. For a list of the titles available on FCBD this year, check out the Free Comic Book Day website here. Because comics are first come first serve, we cannot guarantee specific titles to customers.
How many comics can I have?
We will have two pre-made bags to pick from at our back counter, one with kids comics and one with titles for adults. Each customer may take one bag and then pick four additional comics from our FCBD selection to add to their bags. A list of titles in the pre-made bags will be posted on the day.
Can I have specific free comics reserved?
No. The free comics are first come, first serve as long as they last.
Is there any other way to get the free comics?
Yes! As part of our FREE COMIC BOOK DAY this year, we will be raffling three complete sets of ALL 46 FCBD comics we ordered this year to benefit The Hero Initiative!
Raffle tickets cost $5 for a chance to win 46 comics!
Tickets will only available during FCBD business hours on Saturday, May 6th. Winners will be contacted by Tues. May 9.
Buy as many raffle tickets as you like to support The Hero Initiative and for more chances to win!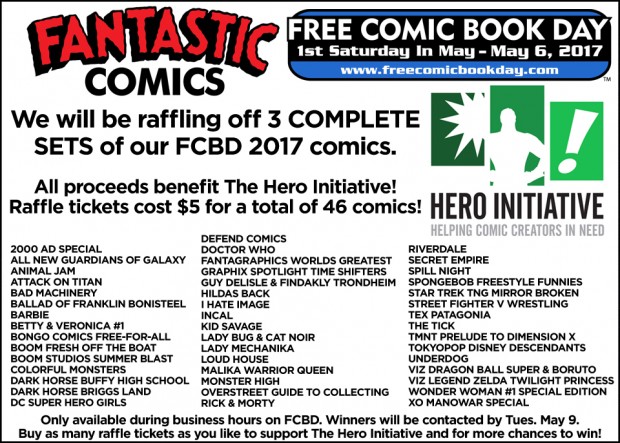 Are all the comics in the store free?
Nope. The only free comics are the ones specifically produced for Free Comic Book Day, available at our back counter. But almost everything else will be on sale…

What sales are you offering?
Back issues — 50% off
Trade paperbacks, hardcovers, and collections — 20% off
Magazines — 50% off
Statues and toys — 30% off
T-shirts — 50% off
High End Back Issues — 20% off
(Sales are subject to change and will be posted in the store on FCBD!)

Can I put items on hold and pick them up on the day of the sale?
No. We are not putting anything on hold or placing special orders until after Free Comic Book Day.

Will you have special guests?
Yes! This year we will be hosting four special guest local artists who will be tabling with their art and offering original sketches during Free Comic Book Day!
We are excited to welcome Christine Villanueva (@fvichristine, christinevillanueva.net), KomunHorangi (@KomunHorangi, instagram.com/komunhorangi), Sonya Abby (@shionyaa, sonyaabby.carbonmade.com), and Brie Spiel (@briespiel, briespiel.com). Check out their websites and social media to see examples of their fantastic art!


How much will the guest artists be charging for their work?
The artists appearing will be setting prices for their own work and will have them displayed on FCBD.
Will the artists be sketching all day?
Our guest artists will be appearing between noon and 4PM.
Can I come in cosplay?
Yes! Please come in cosplay and we will post pictures of you in our online galleries after the event. We love costumes here at Fantastic Comics and we can't wait to see how everyone dresses up!
What if I have a question you haven't answered here?
Contact us via email at contact@fantasticcomics.net or call us at 510-848-2988 with any other questions.