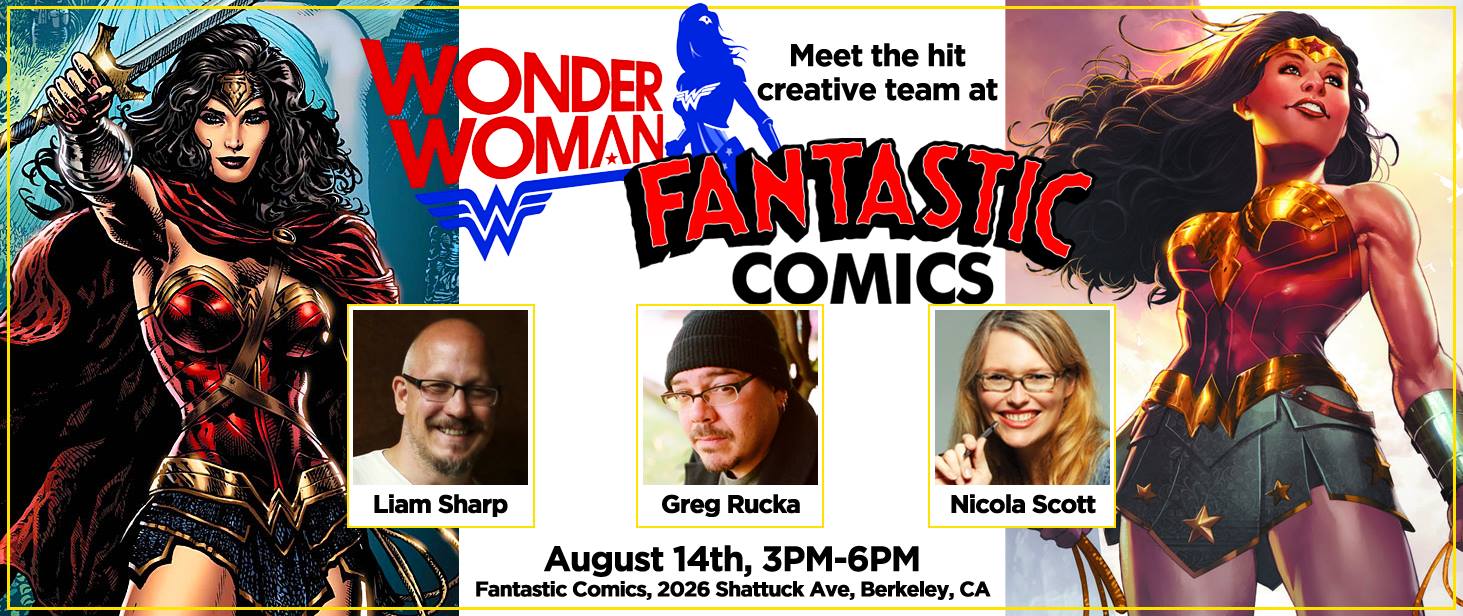 We are all super excited for our Wonder Woman signing this Sunday! Folks have been contacting us with questions and we think this FAQ should address most of them. As always, if you have any further questions about attending this event, just let us know!
FAQ


When does the event start?
We'll be kicking things off with a Q&A at 3PM. It'll go for no more than an hour, at which point we'll switch straight into the signing.
When does the event end?
We're planning to wrap up the signing by 6PM. Please plan to arrive with some time to spare.
How early should I arrive for the Q&A?
We will probably be setting up seating for the Q&A one half hour before it begins. Seating is limited and first come first serve. We will also have loads of standing room.
What if I can't stand or need accommodations? Are you wheelchair accessible?
We are wheelchair accessible and are happy to make whatever accommodations we can manage. Please contact us at Fantastic Comics before the signing if you have concerns about attending.
What if I don't have the new Wonder Woman issues?
We will have some copies of Wonder Woman Rebirth as well as issues 1-4 available to buy at the signing. They are limited supply and will be first come first serve.
Can I bring items to sign that are not Wonder Woman?
Absolutely! Greg, Nicola, and Liam are happy to sign and personalize any of their work.
Can I bring Wonder Woman issues or other items if I purchased them somewhere else?
Of course we would love to take your money at the signing, but you are very welcome to bring items you've purchased elsewhere.
How many items can I bring to get signed?
Feel free to bring as many as you like. We do ask that if you bring more than ten items you circle back in line to make sure everyone has a chance to get their items signed.
Will the artists be sketching?
Liam and Nicola will not be sketching at this signing. The good news is that we hear they're planning to bring prints and possibly some original pages (!!!) to show off, so you might be able to purchase art that way.

If I can't make it to the Wonder Woman signing can I come back for the Black Magick book club discussion later?
The Black Magick discussion is being hosted by our women's book club, so the usual attendance rules apply. More information about the book club meeting can be found here: https://www.facebook.com/events/989859257777041/
What if I have a question you haven't answered here?
Contact us via email at contact@fantasticcomics.net or call us at 510-848-2988 with any other questions.
We hope to see you there!