May is fast approaching, which means it's time for our yearly FREE COMIC BOOK DAY!
This year our FCBD will be featuring a signing with KATE LETH!
Kate is a fan favorite artist and the writer of Patsy Walker aka Hellcat, Vampirella, Power Up, Edward Scissorhands, Adventure Time, Bravest Warriors, and more! Check her out at her website: http://kateleth.com/
Come by the store to take advantage of all-day, store-wide sales, get your picture taken with members of the 501st Legion, and pick up a bag of specially produced FREE COMICS!
Free comics are first come first serve and our doors open at 10AM, so come early.
For updates, RSVP to our facebook event.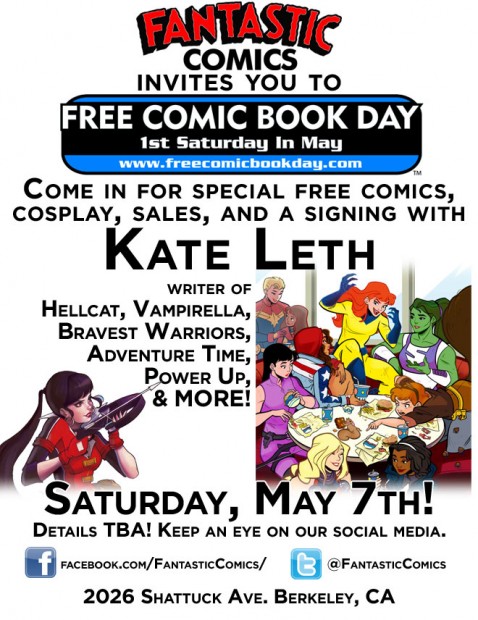 FCBD FAQ:
How early do you open?
We open our doors at 10AM, although folks start lining up much earlier than that to be ahead of the line.

What if I have trouble waiting in line?
We understand that not everyone can stand in a long line. Please talk to a Fantastic Comics staff member or volunteer and we will make whatever accommodations we can for you. If you're concerned, contact us ahead of time and we'll see what we can do.

Which comics are free?
Every year publishers produce specific comics for stores to buy and give away on Free Comic Book Day. For a list of the titles available on FCBD this year, check out the Free Comic Book Day website here. Because comics are first come first serve, we cannot guarantee specific titles to customers.

How many comics can I have?
We will have two pre-made bags to pick from at our back counter, one with kids comics and one with titles for adults. Each customer may take one bag and then pick four additional comics from our FCBD selection to add to their bags. A list of titles in the pre-made bags will be posted on the day.

Can I have specific free comics reserved?
No. The free comics are first come, first serve as long as they last.

Are all the comics in the store free?
Nope. The only free comics are the ones specifically produced for Free Comic Book Day, available at our back counter. But almost everything else will be on sale…

What sales are you offering?
Back issues — 50% off
Trade paperbacks, hardcovers, and collections — 20% off
Magazines — 30% off
Statues and toys — 30% off
T-shirts — 30% off
High End Back Issues — 20% off
(Sales are subject to change and will be posted in the store on FCBD!)

Can I put items on hold and pick them up on the day of the sale?
No. We are not putting anything on hold or placing special orders until after Free Comic Book Day.

Will you have a signing?
Yes! We are thrilled to be welcoming the fantastic Kate Leth to our Free Comic Book Day!

What time does the signing start?
Kate's signing will begin at noon. We will have a line for the signing separate from the line for free comics, but we still recommend lining up a bit early.

Will you be selling Kate Leth's work?
Yes! We will have copies of Kate Leth's comics and Kate herself is bringing prints to sell. You are also welcome to bring comics, etc. from home to get signed.

How many comics can I bring to get signed?
Kate is happy to sign and personalize as many different comics as you have, but we ask that if you have more than ten comics to get signed you get back in line so everyone has a chance.

Can I come in cosplay?
Yes! Please come in cosplay and we will post pictures of you in our online galleries after the event. We love costumes here at Fantastic Comics and we can't wait to see how everyone dresses up!

What if I have a question you haven't answered here?
Contact us via email at contact@fantasticcomics.net or call us at 510-848-2988 with any other questions.