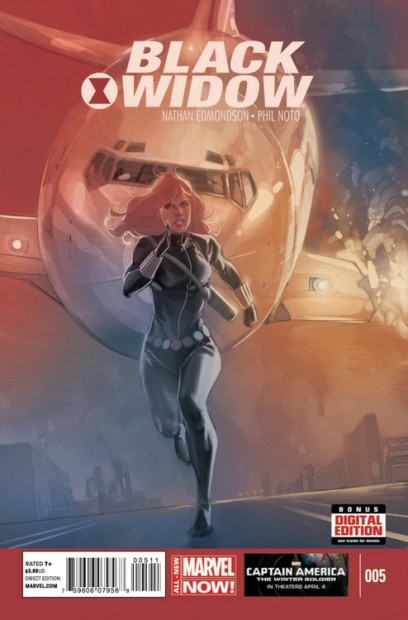 For the Birds: by Nathan Edmondson & Phil Noto
Natasha Romanova. S.H.I.E.L.D. agent. Avenger. Master assassin. Ex-KGB. Black Widow is a character that's been around a long time, though much like the veteran character Loki, has seemed to be earning some renewed popularity after some recent Marvel films. She's had a number of solo books before and guest starred in many others. This time Natasha is on a road to redemption, but that road is neither smooth nor easy. She's a retired gun-for-hire who's still taking the occasional odd job, so where is the line really drawn?
Natasha Romanova is a world class spy with a ledger that could make the hardest of killers shudder. So how do you make her a sympathetic character? It's easy, you just remember that she's also human. That's what writer Nathan Edmondson has done with Black Widow's new solo series, and in the wake of the first Avengers movie, it's been a huge success. Make no mistake, I am not giving full credit to her debut in a huge blockbuster movie, though I think the notice helped. The real brilliance is in the writers who have taken her on, taken her story as a woman who spent a majority of her life killing for money, and not kept her in that one dimensional box.
On a mission for S.H.I.E.L.D, Natasha witnesses an embassy bombing that sparks a chase in pursuit of a mad Russian monk. He calls himself "Hammer of God", and unlikely as it is, manages to best Natasha twice. What happens next is a series of events influenced by bad intel and Natasha's never ending quest to atone for her past sins. It's the perfect espionage story, and with Phil Noto's sophisticated art accompanying the severity of Nathan Edmondson's writing (he's also writing the new Punisher, which I highly recommend), there is no better combination. Even the 'Whoo, Bam, Pow, Krunch's' written out in the action sequences aren't that cheesy, they only add to the overall nuance of the book.
I've been reading Natasha since I first got a hold of Black Widow: The Name of the Rose by Marjorie Liu and Daniel Acuña. Full disclosure? I'll read most things if there's the promise of Natasha in it, but this new series written by Nathan Edmondson is really something special. Black Widow is a no non-sense, pistol of a woman. Edmondson gets that, and he's able to portray her as a woman of few words without making her seem dull. She's a complete mystery, and like she says from the very beginning of the series, you'll never know her full story. Of course that just makes you want to know even more. (Kelly Sue DeConnick's Avengers Assemble also had a very red ledger theme that kept me hooked.)
The only thing I'll say about the conclusion of this particular issue is that the reveal of the criminal mastermind behind the Russian monk is a little obscure for a new reader, but it doesn't really hurt the plot. This book is not a who's who in Black Widow's history, it's an arc exclusively about Natasha kicking some ass and taking names. It's just as much for long time Widow fans as it is for new, or anyone who loves a good spy story.
The one thing I think everyone should take away from this comic? 'The only thing worse than no intel, is old intel. So don't sit on this!
- Heather
---