Welcome to the first entry of our new and improved store blog! Last week the Fantastic Comics staff attended Image Expo in San Francisco and were lucky enough to see a fantastic array of creators present their upcoming projects. With so many exciting new titles it's sure to be an incredible year for comics fans. Here is a taste of some of the titles we're looking forward to.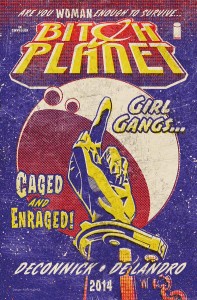 Bitch Planet


By Kelly Sue Deconnick & Valentine De Landro
Bitch Planet is a new series which, in an homage to exploitation films of the 60s and 70s, features a prison break on a women's penal colony in space. It has art by X-Factor artist, Valentine De Landro, and is written by the phenomenal Kelly Sue Deconnick, writer of Pretty Deadly, Captain Marvel, and the upcoming new translation of Barbarella, and inventor of the sexy lamp test. If anyone is able to write a feminist take on the women in prison trope, including what she describes as "the obligatory shower scene", it is Kelly Sue Deconnick. This series promises to be full of campy humor, badass action, and fully realized strong female characters.

Also, it's called Bitch Planet. What more do you need to know?
-Juliette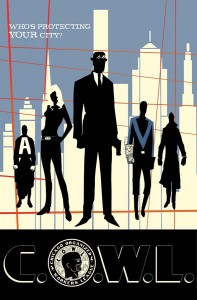 C.O.W.L.


By Kyle Higgins, Alec Siegel, & Rod Reis
Looking for a fresh face among the ranks of Superhero comics? Then C.O.W.L. might be what your looking for! Kyle Higgins (writer of Nightwing, Gates of Gotham), Alec Siegel (writer of Captain America, Avengers), and Rod Reis (colorist for Justice League) are teaming up to recreate a 1960′s Chicago when a superhero labor union called C.O.W.L is struggling to keep their public image in tact and reinforce the faith of Chicago's people. This new comic already has my solid stamp of approval, because if there's one thing Higgins excels at it's mixing a good superhero book with a compelling detective story. He details a campaign to bring heroes together in modern Chicago after World War II and striking a contract with the city for the heroes' services, but that's not all. Higgins said in an interview that, "As someone who loves history, comics, and crime fiction, 1960s Chicago was always the perfect era for C.O.W.L. In fact, it's what got me to take the idea of organized superheroes seriously." A fun bonus? One of the main characters of the book has a uniform that looks very much like a certain vigilante in a DC comic he's currently writing. This is Higgins' first book with Image, set to debut in May 2014, and I can't wait for it.
-Heather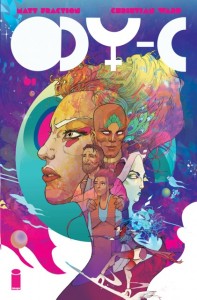 ODY-C


By Matt Fraction & Christian Ward
I'm a sucker for a good retelling of mythology or classic texts in a new context. When the format is a beautiful science fiction comic book, it's icing on the cake. But when you add to that equation a psychedelic, genderbent redesign of the characters, suddenly the project becomes one I am absolutely powerless to resist! This re-imagined version of The Odyssey from Matt Fraction (Sex Criminals, Hawkeye) and Christian Ward (Infinite Vacation) was first announced at the last Image Expo. The difference this time around was something in the direction of an estimated release (according to Fraction, "late-summer, fall-ish, maybe") and gorgeous concept art from Ward. As excited as I am for this title, nothing I can say will be as eloquent as the beautiful character designs previewed at the Expo! Click through the images below to see these full sized character designs and more at Christian Ward's blog: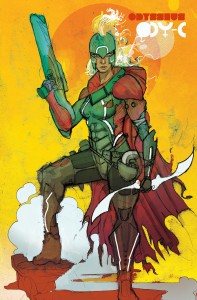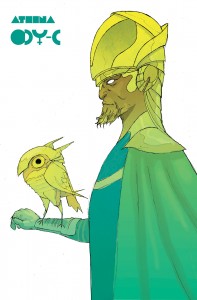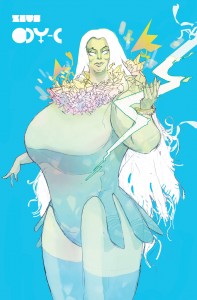 With Ward's exceptionally beautiful art and Fraction's engagingly unpredictable writing I know that I am guaranteed a new series I will simply adore!
-Juliette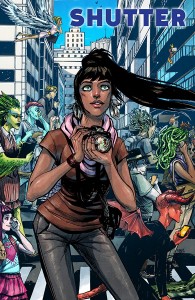 Shutter


By Joe Keatinge & Leila del Duca
Itching for a new spin on adventure stories? Think about picking up Shutter! Joe Keatinge (writer of Glory, Marvel Knights: Hulk) and artist Leila del Duca, a newcomer to Image brought on by Keatinge, have crafted a wonderfully new ongoing series. The story is centered around Kate Kristopher, the descendent of a long line of famous explorers on Earth, and a bit of an adventurer herself. Becoming a renowned explorer in her own right, she briefly abandons her family legacy until fate intervenes to throw her back into the game in order to protect a deadly family secret. All bets are off, but if there's one thing I know for sure it's that Lara Croft may have been the female ideal for a rough and tumble explorer, but this lady is already on a whole other level. In other words, if you've been craving a contemporary, female Indiana Jones type who will be seen battling ghostly ninjas, demons, and monsters, then this is the comic for you! Shutter is a new, ongoing fantasy, adventure series coming to Image Comics in April of 2014.
-Heather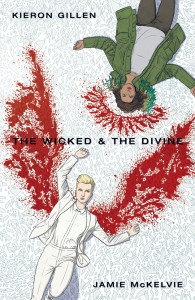 The Wicked & The Divine


By Kieron Gillen & Jamie McKelvie
I know the biggest reveals at Image Expo were the incredible shoes worn by Messrs. Gillen and McKelvie (second only to Kelly Sue Deconnick's badass spiked heels), but if we can leave the footwear aside for a moment, I need to talk about the duo's new series, The Wicked & The Divine. The concept is that every ninety years a pantheon of gods is reincarnated as young miracle-performing superstars who burn bright for two years before their flames go out. It is now 2014 and this round of twelve reincarnated gods may have been joined by an unexpected thirteenth. Gillen enigmatically teased an explanation of the cover image by saying that Lucifer (with the sharp, Thin White Duke aesthetic) has a problem that true believer Laura (upper right) may be able to solve. The Gillen/McKelvie team is fresh off their acclaimed run on the popular Marvel title Young Avengers, which beautifully expressed both the elation and dangers of teenage years. This unabashed fangirl cannot wait to see how they present ancient gods as super powered pop-stars!
-Juliette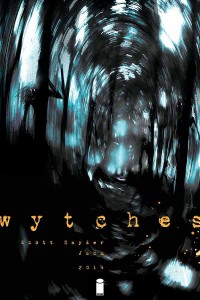 WYTCHES


By Scott Snyder & Jock
Calling all horror fans! Scott Snyder (writer of Severed, Batman, American Vampire) and Jock (artist of Snapshot, Detective Comics, Wolverine) are teaming up for a new, ongoing fantasy horror series called WYTCHES, scheduled for Image Comics in 2014. Being a big horror fan myself, I've loved Snyder's previous works, but whether or not you've read them I'm here to highly recommend this one. Especially if you like horror, because if there's one thing Scott Snyder knows? It's how to get under your skin. It's a story that's reinventing mythological and folkloric creatures, starting with the mythology of witches and remaking them in a scarier, more contemporary fashion. As he describes them, Snyder's Wytches are the primal, cannibalistic creatures that were copied and worshiped by those historical witches from Salem and others we've read about over the years. During his announcement of the project Snyder said, "Our whole goal is to scare the living shit out of you with this book." Don't believe him? Read Severed. But also pick this one up, it's sure to be a scream. Snyder and Jock have worked together previously on The Black Mirror, published by DC Comics, so don't miss this new project with this phenomenal team!
-Heather
These offerings are just a few of Image Comics' list of new creator owned titles to have captured our attention. Stop by the store to talk to us about how excited we are and to make sure to get these books on your pull list as soon as they become available. Trust us, these are comic books you won't want to miss!